"BAR TACKING"
Bar-Tack: A group of closely-sewn, back-and-forth stitches using a wide zig-zag
stitch/satin stitch (4.5 width x .0 length).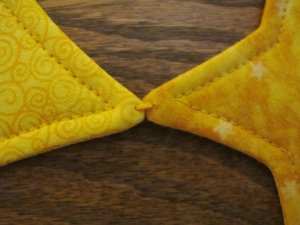 "Holy Cow"
#ST-2214


Sew up fun Cow Pot Holders, Mug Mats, Trivets or just for fun! Super Quick and they make Great Gifts!
Approximate finished size 9" x 9".

There has been questions about the Ears, so please read Instructions #12 & #13

12. With remaining Cow Base Fabric (or FQ for contrasting Ears), cut two 5" x 11" pieces, layer RST and trace 2 Ears (a right & left Ear); leave enough room for SA. Using a ¼" SA, stitch around each Ear, leaving no opening(s); trim SA to a scant ¼", clip curves/corners as needed. Cut a small slit through the back side only, as noted on the pattern. Turn RS out and smooth SA with turning tool, then press flat. Whip-stitch openings closed.

13. Position sewn Ears as noted on the pattern (or as desired) and top-stitch in place through all layers along the straight bottom edge of each Ear as noted on the pattern.




Here's another tip:

I trace make a working "Muzzle"; I use quilter's plastic, but paper will work too. Then I cut along the "Smile" line being sure to mark the start and stop lines (and bottom seam allowance), and use it to trace the Smile(s) so they will be the same.
But you can always stitch your own style Smile.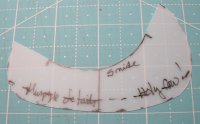 "Gardening Gnomes"
#ST-2109

"HOW TO CUT FUR"


For Gnome Beards




1. This is what my fur looks like after it's been hand-washed and hung to dry.
2. This picture shows a 10" x 5" piece of Fur, plus a ruler, marker, scissors and a small brush - all the supplies you'll need to cut your Fur. You will need more Fur depending on how many cute Gardening Gnomes you are going to make (a 10" x 5" piece of Fur will make five - 10" x 1" strips of Fur if cut correctly).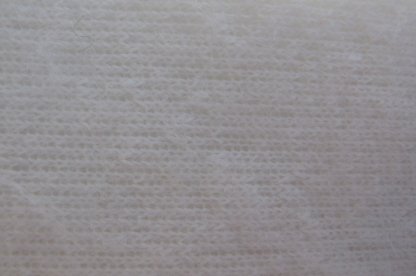 3. This picture shows the "Knit" back of the Fur; when you cut your Fur, you'll want to cut through JUST the knit backing - otherwise you'll destroy the next row of Fur (as well as fill your workroom with loose Fur fibers).
4. Using a small brush, brush fur in the direction it will hang on your project.
5. I use Gingher 5" knife edge craft scissors, but you can use any scissors with a nice thin sharp edge that you can wiggle under the Fur and cut through just the knit backing.
6. As you can see after cutting in this manner, the remaining long Fur remains intact for the next cut and you will not have a work room filled with Fur fibers.
7. Cut more pieces of Fur as needed for your project(s).
"Gardening Gnomes"
#ST-2109
How To Apply The Gnome Cut Fur


1. This is a Potted Gnome ready for his beard to be applied.
2. Start wrapping and gluing Fur from the side seam, across the front of the head.
3. Continue wrapping and gluing Fur around back of the head and then again over the front Fur that's already in place.
4. Top of head is shown with double-wrapped and glued Fur.


Gardening Gnomes
#ST-2109
How To Shape Hat


1. One sewn Hat and an 8½" piece of 18 gauge wire.
2. Fold wire in half and twist ends together. Spread the center width of the loop,
so that it fits completely inside the Hat.
3. Following pattern instructions, add a dab of glue to the top of the curved wire
and insert into Hat top; allow glue to dry.
4. Shape Hat with your hands by bending the wire until shape is as desired.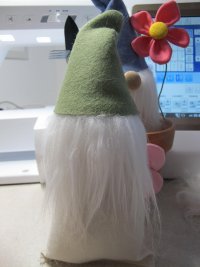 5. Position shaped Gnome Hat to cover the top of the cut Fur edges and glue in place.
Continue with remaining instructions.


FOR 2020

"Jam Jar Labels"
For "Toast & Jam" #ST-2027 pattern


For printable labels onto June Tailor prepared fabric sheets,

or traceable for embroidery.


We included more than just "Jam" labels, like Jelly Beans, Candy Corn, Peppermint Twists, Etc.,
for other holidays and gift giving. Make jars in your favorite style or content, even Fireflies!
Click on the link below, then print desired pages and follow Jam Jar Label Instructions
on Page #1 of the pattern.
https://media.rainpos.com/4104/2027_jam_jar_label_labels.pdf

Page of Blank Label for use with printable labels onto June Taylor Prepared Sheets
https://media.rainpos.com/4104/2027_blank_embroidery_labels.pdf




For Year 2019

Princess Lay-A #ST-1901 - Visual Aids for Instruction #5 THE STACK and trimming Insul-Bright Out Of Beak Area.




For Year 2018


Santa's Hat #ST-1826 - Visual Aids for making Chenille



Visual Aid For Making Chenille